---
Words to Act On – The Reading List for Kids!
March 31, 2017
---
Here are the best books for your budding environmentalists…
We are more than a little excited to announce our partnership with Bookshop Santa Cruz for the Words to Act On program. We've worked with the very smart team over at Bookshop to curate a list of the best books we've read on the environment and climate change.
Below you'll find our short list of books kids should read. Click on the title or image to travel over to the bookshop and get your own copy. Read any of the books on the list and you can then trek on down to the Bookshop (in person) after April 1st to claim a special seed packet prize!
Make sure to check out our list for adults too.
If you're an ambitious reader browse through the full list of books for kids and adults here.
Be sure to also look up all the upcoming Words to Act On programs Bookshop Santa Cruz is running with other local non-profits, including Planned Parenthood and the Community Action Board of Santa Cruz County. Bookshop is generously donating a portion of the sales of all books on the respective reading lists to each non-profit, including Ecology Action. So read and do good at the same time!
By Julie Dunlap (Editor), Susan A. Cohen (Editor)
Coming of Age at the End of Nature explores a new kind of environmental writing. This powerful anthology gathers the passionate voices of young writers who have grown up in an environmentally damaged and compromised world.
By Harriet Rohmer, Julie McLaughlin (Illustrator)

"Introducing a dozen North American eco-activists, most of them teenagers or younger adults, Rohmer conveys one inspirational success story after another." . – Kirkus 4th grade reading level, but for all readers.
By Thomas F. Yezerski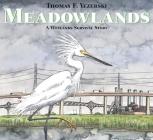 The 20,000 acres of wetlands in New Jersey now known as the Meadowlands were once home to hundreds of species of plants and animals. But in the four hundred years since European explorers first arrived in the Meadowlands, people have dammed up, drained, built over, and polluted this formerly vibrant ecosystem and all but destroyed it. Slowly but surely, with help from activist groups, government organizations, and ordinary people, the resilient creatures of the Meadowlands are making a comeback, and the wetlands are recovering.
By Paul Fleischman

A hopeful, environmental wake-up call for teens ready to act. This book helps young people learn to look behind the headlines to examine how things got to be the way they are and what can be done about it. Grades 6 & up.
By Amy Ehrlich, Wendell Minor (Illustrator)

In this picture book biography, Minor's full-page paintings in watercolor and gouache capture the broad sweep of the land as well as the tiny connections in the woods and in the sea around us. Young ecologists will find support here, and they will be inspired to find out more about Carson and the great spaces she explored. – Bookshop Kids Staff
By David Elliott, Randy Cecil (Illustrator)

A life-affirming look at nature's beings… Together, the words and pictures create a powerful package that conveys a sense of appreciation for all living things. – School Library Journal
By Krystina Castella, Brian Boyl

From Heyday, a Native Californian press, Discovering Nature's Alphabet brings our magical ecosystems to life in a journey of discovery. ABCs—found letters—appear in leaves, curving seedpods, bright yellow banana slugs, and rocky trails. It's the perfect teaching tool for a budding naturalist. – Bookshop Kids Staff
By Paul Fleischman, Judy Pedersen (Illustrator)

Thirteen very different voices and perspectives–old, young, Haitian, Hispanic, tough, haunted, and hopeful–tell one amazing story about a garden that transforms a neighborhood.
By Jason Chin, Jason Chin (Illustrator)

A ordinary subway trip is transformed when a young boy happens upon a book about redwood forests. As he reads the information unfolds, and with each new bit of knowledge, he travels all the way to California to climb into the Redwood canopy.
By Annette LeBlanc Cate

Let's be honest: many kids will respond to the idea of bird-watching with a sardonic "You gotta be kidding." And these are the very kids who stand to be pleasantly surprised by Cate's humorous, informative invitation to the hobby and her low-pressure, common-sense approach… – Bulletin of Ctr for Child Bks
By Dr. Seuss

I mean, everyone knows The Lorax: "Unless someone like you…cares a whole awful lot…nothing is going to get better…It's not." – Bookshop Kids Staff
---